Current status:
Application sent
You're applying for:
HR Advisor
Your application has succesfully been sent. We will contact you as soon as possible.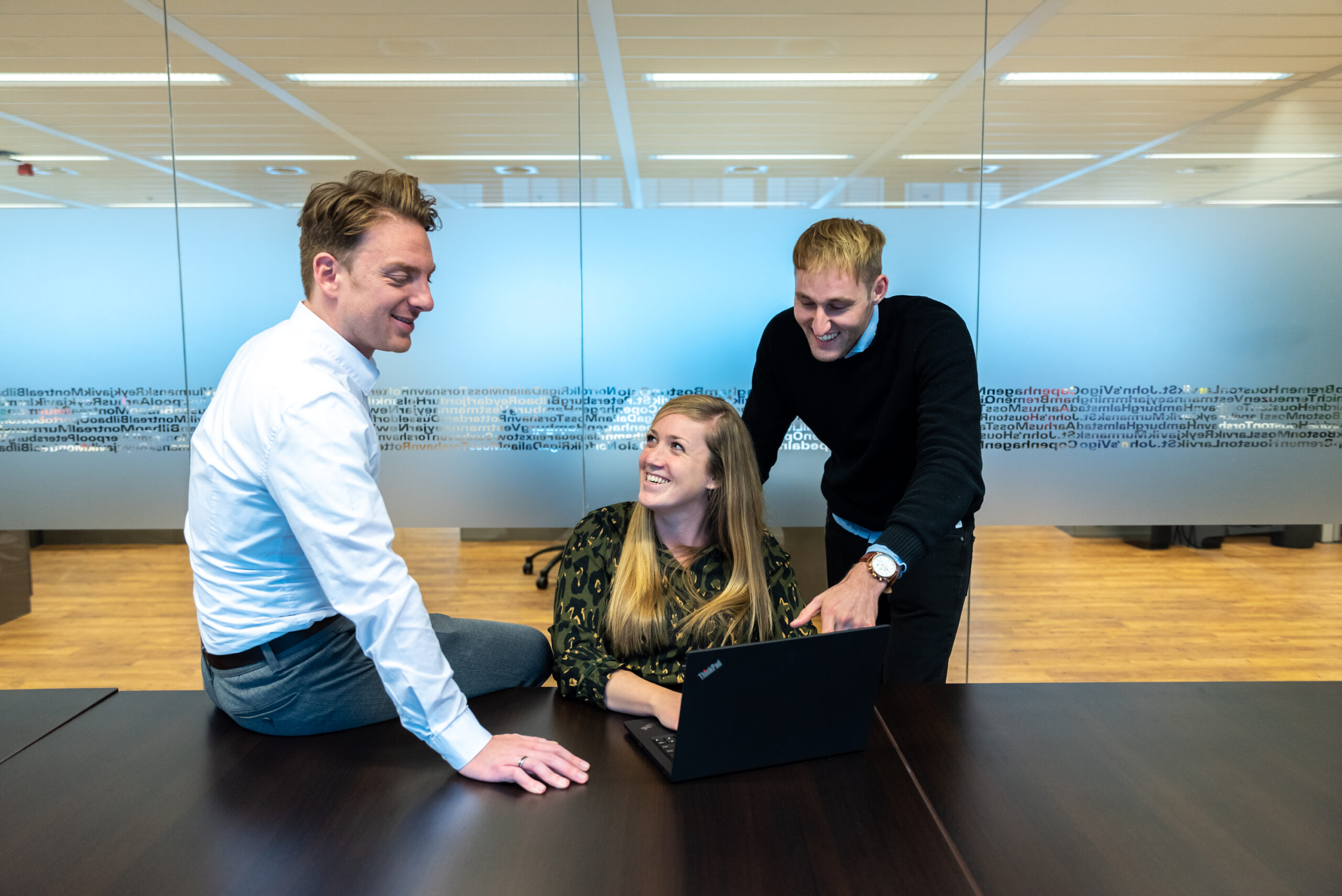 Zoek jij een veelzijdige baan waarin je je passie voor HR kwijt kunt? Wij bieden je een leuke en uitdagende HR-rol en de kans je verder te ontwikkelen binnen een internationale werkomgeving.
 
Welke opleidingen kan ik vanuit mijn functie volgen? Welke doorgroeimogelijkheden zijn er voor mij internationaal? Hoeveel pensioen heb ik straks opgebouwd als ik stop met werken? Dit zijn zomaar wat vragen waarmee je collega's elke dag bij je aankloppen. Heel divers, en dat maakt je baan nu juist zo leuk. Daarnaast spelen er op onze HR-afdeling altijd inhoudelijk interessante projecten waarin jij een rol kunt pakken. Als jij je aangesproken voelt door onze slogan 'Together We Make Things Happen' en je HR-kennis en -ervaring verder wilt uitbouwen binnen een toonaangevend internationaal logistiek bedrijf, lees dan vooral verder… 
Vraagbaak voor al je Samskip-collega's
Als HR Advisor heb je een ondersteunende rol door uitvoering te geven aan het operationele HR-beleid  binnen het HR team in Rotterdam. Daarnaast help je met onder andere grote Global projecten. Die werkzaamheden variëren van het succesvol onboarden van nieuwe collega's, het houden van interviews met sollicitanten tot het voeren van stay- of exitgesprekken of gesprekken over mobiliteitstrajecten. Je werkt niet alleen intensief samen met je directe collega's, maar hebt ook dagelijks contact met onze andere medewerkers. Nationaal en internationaal. Zij kunnen met al hun HR-issues bij je terecht. Je bent ook een gesprekspartner voor onze managers als het bijvoorbeeld gaat over bezetting, opleidingswensen en verzuim. Tenslotte ondersteun je onze payroll specialist en houd je verzekeringen en pensioenen in de gaten. Een hele afwisselende baan dus, waarin je het ook niet nalaat om ideeën aan te dragen die onze strategie, procedures en processen op HR-gebied verbeteren.
Concrete taken zijn onder andere:
 
coördineren van werving & selectie procedures vanaf het sourcen tot het aannemen op internationaal niveau, waarbij je het contact onderhoudt, interviews plant en sollicitatiegesprekken voert;
verwerken van mutaties in onze systemen
maken en verstrekken van communicatie rondom wijzigingen
het voeren van een effectieve administratie
begeleiden van ziekteverzuimprocessen;
zorg dragen voor de onboarding van nieuwe medewerkers, inclusief  zorgen dat ze o.a. de juiste Samskip-trainingen volgen en belangrijke bedrijfsinformatie ontvangen;
deelnemen aan specifieke HR-projecten;
organiseren van personeel events.
Ruimte voor ontwikkeling in ons gezellige HR-team
 
Een gemiddelde werkdag binnen onze HR-afdeling kan druk zijn. Er wordt hard gewerkt, en we helpen elkaar als de werkdruk erom vraagt en er is zeker ruimte voor gezelligheid. Het sociale aspect binnen je baan is sowieso heel groot; iedere dag ontmoet je weer nieuwe Samskip-collega's en breid je je netwerk uit. Door de veelzijdigheid van je baan leer je elke dag, maar we bieden je ook volop mogelijkheden om jezelf te ontwikkelen met functiegerichte cursussen en trainingen, o.a. via ons uitgebreide e-learning Samskip Academy platform. En dan heb je vanaf je ergonomisch ingerichte werkplek ook nog eens fantastisch uitzicht over de Rotterdamse haven!
 
Daarnaast bieden we je:
een marktconform salaris, inclusief een dertiende maand;
28 vrije dagen op jaarbasis;
in overleg met je manager de mogelijkheid om een deel van je tijd vanuit huis te werken;
een uitstekende pensioenregeling en reiskostenvergoeding;
bedrijfsfitness.
 
Servicegerichte collega met een passie voor HR
 
Als HR Advisor ben je het aanspreekpunt voor al onze collega's als het gaat om personeelszaken. Het is daarom belangrijk dat je toegankelijk bent en goed kunt luisteren. Met jouw servicegerichte instelling doe je er alles aan je collega's te helpen en kom je met oplossingsvoorstellen. Je houdt echt van het HR-vak en vind je het leuk om met veel verschillende dingen tegelijkertijd bezig te zijn. Naast het uitzoeken en nauwkeurig beantwoorden van al die verschillende vragen, wil je ook een actieve rol spelen in HR-projecten of specifieke taken oppakken. In deze baan is het belangrijk dat je integer en betrouwbaar bent, over een groot verantwoordelijkheidsgevoel beschikt en zorgvuldig omgaat met vertrouwelijke zaken.
 
Specifieke functie-eisen zijn:
 
een afgeronde relevante opleiding, bijvoorbeeld in human resources management;
minimaal 3 jaar werkervaring in HR, ervaring in payroll is mooi meegenomen, maar niet noodzakelijk;
actuele kennis van wet- en regelgeving;
goede communicatieve vaardigheden en een uitstekende beheersing van de Nederlandse en Engelse taal.
 
Reageer, liefst snel!
 
Wat ons betreft begin je zo snel mogelijk. Solliciteer daarom snel via de sollicitatieknop op deze pagina. Heb je nog vragen? Bel ons dan via +31 (0) 88 400 1000, of stuur een e-mail naar career.management@samskip.com
Apply now
Questions about this vacancy?
Ask Us.
Sign up for a job alert.