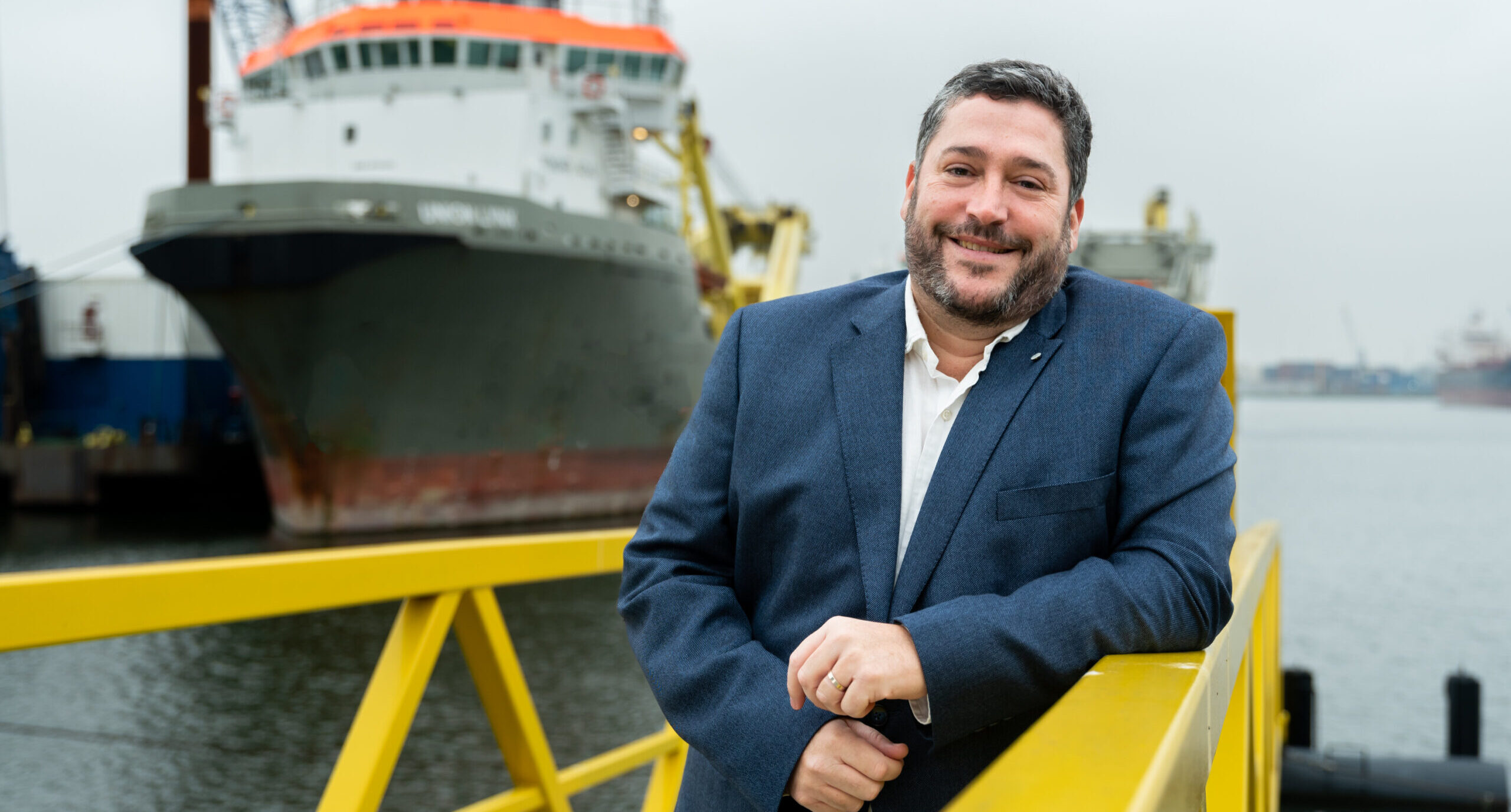 Inland Transportation refers to Samskip's transportation activities on mainland Europe. Rodrigo Perdigão is Manager Inland Transportation Operations for this busy and growing part of our business, tasked with overseeing new levels of sustainability and digitization in a fast-changing commercial landscape.
"Our department is responsible for Inland Transportation. Basically, this refers to all transportation on mainland Europe involving road, rail, and barges. That includes the 'pre and on-carriage' of goods from/to the client to the main rail, barge or port terminal. There are three Inland Transportation sub-departments at Rotterdam: Trucking, Intermodal for the planning and handling of rail and barges, and Flat Racks and Reefers. From Rotterdam we are responsible for executing the daily operations for Benelux, Germany, France, Switzerland and Austria. We have another team based in Genemuiden in the Netherlands, responsible for executing inland operations that begin or end at our Duisburg rail terminal. This team is divided into two departments, one of which handles all our road operations in Sweden. The other department handles business from the Ruhr and Benelux and connects to all of Europe and beyond.
A changing industry
A number of trends are currently impacting Inland Transportation in a big way. One of the main ones is Brexit and the associated supply chain disruption and extra paperwork for customs. The UK represents up to 65% of our market and we are facing congested ports and a lack of truck drivers, although that is a problem Europe-wide. At the same time, we are really pushing to find more sustainable options. We are moving to off-road solutions where possible, especially barges, and exploring the use of biofuels, electric and LNG. A lot of our clients are requesting this and we do our best to offer it as this is in line with our core values and our mission to be carbon neutral. Another trend is digitization. Samskip is undergoing a digital transformation and we recently started working with the Head of Transformation as well as project leads to automate as many routine manual tasks as possible. We also want to increase the speed at which we access and share information. All of this will free up more time to focus on activities that really add value to the customers.
Day to day cooperation
Of course, our main priority amongst all this change is to get the goods to the right place at the right time in the most efficient way. That means constant contact with Customer Services in order to provide an optimum service level using the available assets and ensuring an optimal utilization. Ultimately, however, we have to look at what the client and the market needs, and within Samskip we ensure that Together We Make Things Happen.
Endless paths within an international company
The most important characteristics you need to work within Inland Transportation are resilience and the ability to multi-task in a constantly changing environment. A lot of things can happen every day so you need to be flexible while maintaining focus so that you find an appropriate approach that solves the problem efficiently. At a deeper level, we want you to look at processes, challenge the status quo and think outside of the box to improve the way we do things. The main roles available are usually as Transport Planners, but there are also positions available in Transport Administration. As you become more experienced there will be an opportunity to grow professionally within Inland Transportation or elsewhere. The great thing about Samskip is that it's an International and multicultural company. The atmosphere is vibrant and informal, and with a positive attitude to developing your own skills you can develop your career in any direction you choose."
Sign up for a job alert.